SENSEI MICHAEL GODWIN
About me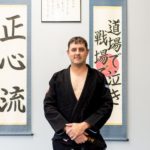 Sensei Michael Godwin
Introduction
"Bravery is not the absence of fear but action in the face of fear."
Sensei Michael Godwin has been training Shoshin Ryu martial arts since 2008, and teaches both adult and children's classes.
Sense Godwin is a Wilmington native and a local law enforcement officer, which allows him to bring a highly practical set of skills to the classes he instructs.
Specializes in both Knife and Stick.