Sensei Aaron Lawrence
About me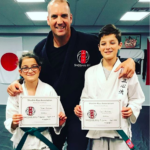 Sensei Aaron Lawrence
Introduction
"For me there is only the traveling on the paths that have heart, on any path that may have heart. There I travel, and the only worthwhile challenge for me is to traverse its full length. And there I travel, looking, looking, breathlessly."   –  Carlos Casteneda
Sensei Aaron Lawrence is the founder of the Wilmington, NC Dojo and has been teaching martial arts to youth and adults since 2001. He is the primary instructor of Single Baston (Stick) and Knife within the national Shoshin Ryu organization, of which he also serves on the Board of Directors.
Mr. Lawrence has shared his expertise with groups including the Marine Raiders (MARSOC) at Camp Lejeune, Wilmington Police Department, New Hanover Sherriff's Department, and the local Rape Crisis Center.
As all members of Shoshin Ryu, Sensei Lawrence strives to always be learning; to be a student for life as well as encouraging the ideal to appreciate the journey versus that of seeking power, fame or wealth.