PROTECT YOURSELF AND YOUR FAMILY
FREE MONTHLY SELF DEFENSE CLASS
The Class
Wilmington is an incredible place to live, but like every town, there are bad, violent people who want to do harm to others. Our monthly self defense class is designed to give good women and men the skills and training to defend themselves so they will not be a victim.
People who attend the class can expect to learn the mindset and specific techniques that can help them be prepared in a self defense situation. Students will be led through a series of real life situations with practical defenses that can help protect themselves.
Studies show that attending self defense classes can lower incidences of unwanted sexual contact.
Students can also expect to learn:
how to use body language and posture to stop an attack before it starts
why carrying a weapon may not help you in a self defense situation
mental "tricks" that can turn you from prey to predator
Shoshin Ryu is offering the free monthly self defense class as a way to help our community stay safe. If you plan on attending, please contact us through the form below with your name and date you'd like to attend. Students should wear clothing appropriate for the gym, and will be barefoot on the training mat.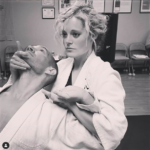 Sensei Esther Kurtz
20 years of martial arts training. Originator and instructor of the free monthly self defense classes.